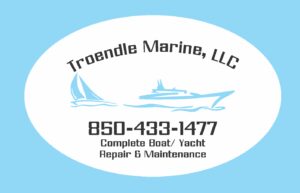 Exceeding Our Customers' Expectations
Bottom Painting & Restorations
Bottom painting is intended to prevent growth (weeds, barnacles, etc.) from attaching to a boat's hull. Preparation and application are key to maintaining a boat's bottom. Boats without bottom paint should not be left in the water for more than 2-3 days. Even boats that are used only in freshwater should have bottom paint applied. Barnacles may not be a factor, but other plant life and algae are still present. We at Troendle Marine are committed to producing superior work, using top of the line industry products.

Also key in maintaining your boat's bottom is a barrier coat, which is applied as a base before bottom paint is applied. It is typically applied one time and plays a critical role in preventing blisters.

In addition to bottom jobs we do:
Fiberglass Repair
Gel Coat & Blister Repair
Hullside & Topside Painting
Keel Repair
Structural Repair
Give us a call so we can discuss your specific needs and make appropriate recommendations.